AORN looked to RBA Consulting to help them decide whether to redesign their website quickly and all at once or to perform an incremental upgrade to their customer experience. My role on the project was twofold:
to analyze one of the most important paths to the business—the continuing education purchase flow—and
to provide recommendations that would delineate high-value changes for less effort.
The Process
Stakeholder Interviews
Because the client was on a very tight budget both in terms of time and resources, they were not willing to give us access to customers. They were, however, willing to give us interview time with surrogate users (people used as a substitute or representative for users).
We used the kick-off meeting to gain a general understanding of the customer experience and to ascertain website problems that had grown over time. In this meeting, four things became very clear:
The existing website was home to many useful and valued features,
There were solid reasons why nursing professionals were loyal to AORN
The site was suffering serious user experience problems.
The client was fearful that the poor user experience were allowing competitors to catching up to them.
Assumptive Task Analysis
Just because you don't have the ideal resources and access to users doesn't mean you can't gain empathetic insight. The approach I took was to use my past experience to assumptively assess the task flows of purchasing continuing education courses and products. While I ran into several unknowns, I was able to piece together a solid schema of how a user might behave and feel while navigating the existing site. I then validated my assumptions with surrogate users and fine-tuned my analysis accordingly. In the end, I had captured 20 mental steps from over individual eight webpages where substantial concentration was required of the user.
Customer Journey Mapping
Next, I drafted the current-state customer experience touchpoints. Rather than doing this on a page-by-page basis, I did this by distinct user experience. I was careful to include all mental steps from across the whole purchasing path. This journey map included a lightweight persona, experiential touchpoints, emotional states, and an empathetic narrative. When I presented the journey map to three surrogate users, they validated the work and confirmed that I had captured the real experience of actual users. Despite my fear that my unvarnished findings would paint too pessimistic a picture of the existing user experience, the surrogate users confirmed my findings and in several cases made even more critical evaluations of the site.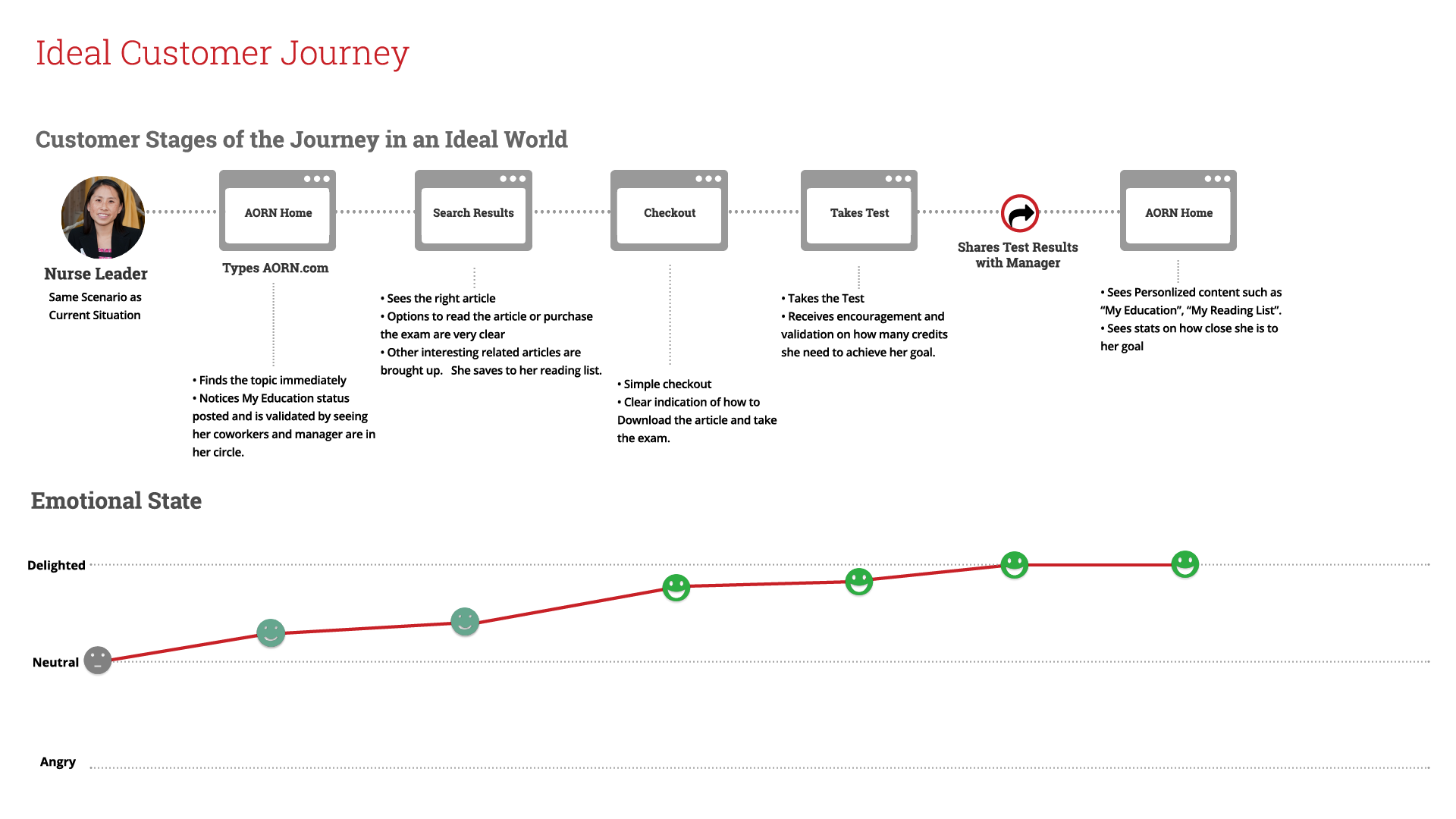 After completing the current-state customer journey, I constructed an ideal-state customer journey map. While I knew that clients do not often revise websites strictly according to the recommended customer journey map, I believe it's wise to develop a "gold standard" to help guide the UX process. Many times, creating an intuitive and delightful user experience is a low-effort process, so it makes sense to discover the ideal experience early on, even if it changes later in the process.
UX Recommendations
The problems I discovered with the current-state experience were as follows:
Too many steps in the process: 20 mental steps over 8 pages
The content area for most pages were not "scan-friendly"
Navigation did not highlight where on the site users were
There was insufficient emphasis on and explanation of credits and exams
The product catalog did not indicate what filters were turned on
After a successful checkout, next steps were not provided
Insufficient emphasis was placed upon individual key features
The homepage (logged-in state) lacked personalized content
The content was out of date
The recommendation I created consisted of four main areas:*
Surfacing Key Content
Improving the Product Catalog/E-commerce Experience
Strengthening the Post-Purchase Education Experience
Capitalizing on Marketing Opportunities
Summary
Making UX Recommendations by Gaining Empathy for the Customer
Many times, people equate User Experience Design activities only with wireframes. However, what separates User Experience (UX) design from User Interface (UI) design is that in UX, we seek to see the experience through the lens of a complete "end-to-end" journey. This often entails journey mapping as a way of gaining insight into the current state of a customer's journey. Before looking colors, layouts, and aesthetics, it's crucial that we step back and understand what the ideal experience is. Only then are we ready to do the UI design work.
On this project, our construction of customer journey maps accomplished the following:
It fostered alignment within the business regarding what the current-state was and what the ideal-state experience should be.
It inspired empathy by allowing the client to see the site as the customer did.
It broke down the experience into mental steps, not pages.
It provided an objective view of the many pain points that existed in the current-state purchase flow.
It demonstrated that continuing education course purchase could be radically streamlined.
It surfaced several low-effort ways to dramatically improve users' experience of the website.